The current shortage of equipment in Cape Town, space constraints, and vessels by-passing Cape Town port, are causing logistical challenges in getting the fruit shipped.
There is a good demand in the GCC countries for South African lemons, pears, and in Dubai market for white and red globe grapes. Plums are not doing well, and this is due to the increase in volumes from South Africa.
1.00 USD = 3.67 AED (Emirate Dirham)
1.00 USD = 3.75 SAD (Saudi Riyals)
1.00 USD = 85.82vb BDT (Bangladeshi Taka)
1.00 USD = 75.34 INR (Indian Rupees)
1.00 USD = 15.36 ZAR (South African Rand)
Citrus
Lemons seem to be peaking between count 100 to 138. Counts might get smaller later because growers are picking bigger, better-coloured fruit at the moment.
Grapefruit picking is planned to start in week 12/13.
Market update on Citrus from South Africa
Increase in demand for lemons from South Africa in the GCC countries. The first season "early South African lemons" has started to make an arrival in Dubai. The market is currently supplied with lemons from Egypt and Turkey, however, Turkey is expected to finish earlier than anticipated due to the recent snow in the country.
Market Prices (Dubai and Kuwait)
Pome
There are 1-2 weeks left on packing of the summer pear varieties (Flamingo/Cheeky) before the new season will start on the winter pear varieties (Forelle/Vermont Beaut) in week 10/11.
There is still a lot of Royal Gala that needs to be picked and packed before the full volume of Golden Delicious can start.
New Zealand might have to keep 30% of its apples on trees due to the ongoing labour issues.
Market update
There is a high demand for pears in the GCC countries. Although there has been a decline in price levels in the Dubai market, price levels are still high.
The GCC countries will maximise on Royal gala volumes from Europe and Poland until the season ends. The price levels from both South Africa and Chile are still at the higher end due to the increase in freight rates.
Granny Smith and Golden Delicious apples continue to perform well with high market price levels this season. The market is still supplied with green apples from Italy/France/Serbia/Ukraine.
Market Prices (Dubai and Kuwait)
Grape, Stone & Kiwi Fruit
Update on Stone fruit and a market update in the GCC countries
Plums shipped to the Middle East are up compared to last season. The last shipping of the stored Angelino plums from South Africa will be shipped around week 17.
A continued downward trend for plums in the GCC countries, however, price levels have increased for Peaches and Nectarines in Dubai.
Update on Grapes and a market update in the GCC countries
The season for white grapes from South Africa is at the tail-end. Other red and black varieties can be available for another 6 weeks.
Indian grapes are still not performing well in the market, and this is mainly due to the volume of grapes making arrival from India. Market price levels for white and black varieties of Indian grapes are between $6.00-$7.00 (4.5kg) in the Dubai market.
There is an increased demand for South African white grapes and Red globe varieties from South Africa in the Dubai market.
Update on Kiwi Fruit and a market update in the GCC countries
Dubai market is supplied with Kiwi fruit from Italy, Greece, Iran, and China. The price level for the Gold variety from China remains stable at $12,25 (3kg). However, during week 8, the market trends have been more unstable for prices and demand from other countries.
Market Prices (Dubai and Kuwait)
India / Bangladesh
India
Plum Market has collapsed with too many plums making arrival and plums from Dubai coming into the market.
The importers that got early pears from SA are making good margins. Also, the importers with early pears are able to move their plums due to them telling their customers that they must take plums if they want pears.
The Apple market is very slow with too much poor quality Polish Apples in the market.
Bangladesh
The market is currently causing much misery across the board with apples, pears, oranges, soft citrus and grapes all selling below cost.
The widespread availability of large volumes of Chinese apples is resulting in slow movement within the market.
From a South African perspective, shipping capacity to Bangladesh is starting to come under pressure due to the limited availability of space and equipment.
The ever-earlier start of Ramadan coupled with the delayed start of Gala varieties has exacerbated the urgency to get volumes on the water in time for the start of the Holy period.
PPECB Statistics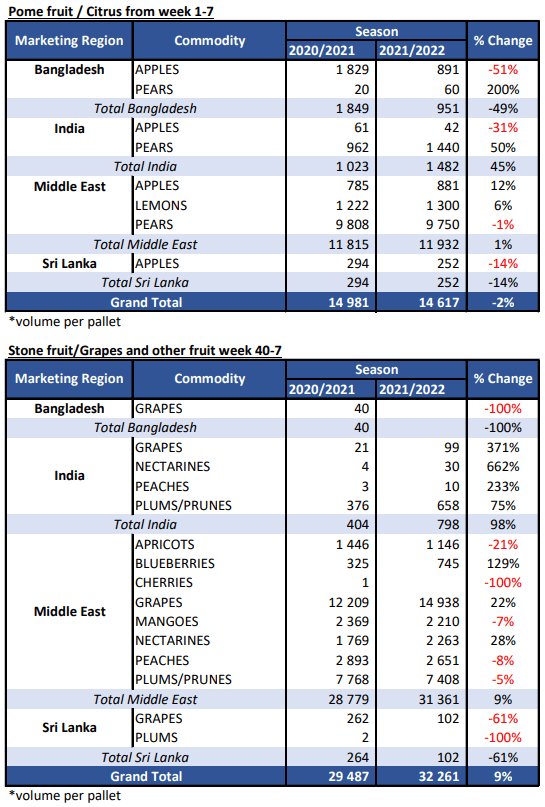 Decofrut Statistics
Follow links to our social pages